Keynote speaker Ali Madanipour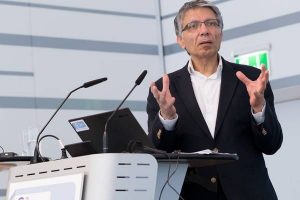 Ali Madanipour has studied (MArch, PhD), practised, researched, and taught architecture, urban design and planning, winning design and research awards, and working with academic and municipal partners from around the world.
He is a professor of urban design at the School of Architecture, Planning and Landscape (Newcastle University, UK), where he co-founded the Global Urban Research Unit and a full graduate program in urban planning. His visiting positions include the City of Vienna Senior Visiting Professor at the Technical University of Vienna (2010), the Wits-Claude Leon Distinguished Scholar at the University of Witwatersrand, Johannesburg (2011), and Visiting Professor at the University of Teheran.
His main themes are design, development and management of cities, in particular research into the urban space, its social and psychological significance, processes that shape it, agencies of urban change, and implications of change for disadvantaged social groups and the environment.
He is the author of the books "Whose Public Space? International Case Studies in Urban Design and Development" (2010), and "Knowledge Economy and the City" (2011), both published by Routledge (London).
Profile – Newcastle University, UK  |  CV
Comment by João Seixas

João Seixas is a researcher at the Interdisciplinary Centre of Social Sciences – CICS.NOVA and a professor at NOVA School of Social Sciences and Humanities, Lisbon.
Holding a PhD. in Urban Geography (Universidad Autónoma de Barcelona, 2007) and a MsC. in Regional and Urban Planning Studies (London School of Economics, 1997), he has a solid experience in the scientific domains connected with human geography, cities and metropoles, urban sociology and urban politics – developing high quality scientific and pedagogical activity, both in national and international terms, combined with leading scientific assistance to the qualification of public strategies and policies.
He is the author of the book "A Cidade na Encruzilhada" (Edições Afrontamento, Porto, 2013), co-author of the book "A Governação de proximidade em Lisboa" (INCM, Lisboa, 2014) and editor of the book "Urban Governance in Southern Europe" (Ashgate, London, 2012).
Communication by Manuel Salgado
City Councilor for Urban Planning, Town Planning, Heritage and Municipal Works, Lisbon
Commentary on the Guide COMMON PLACES
João Cabral (CiAUD-FAUL) | +info
Luís Jorge Bruno Soares (BSA) | +info
Round table Public space: what is it for and what it depends on?
Peter Colwell (ACAPO) | +info
Rute Lima (Junta de Freguesia dos Olivais) | +info
Sofia Mourão (CML/DMU/DEP) | +info
António Pedro Figueiredo (MUBi)  | +info
Round table Public space: what to research and how to research?
Teresa Cálix (CEAU-FAUP) | +info
*Antoni Remesar (CRPolis-UBarcelona) | +info
Marta Labastida (EA-UMinho) | +info
Núria Ricart (UBarcelona) | +info
Paulo Farinha Marques (CIBIO.InBIO-FCUP) | +info
Pedro Costa (DINÂMIA'CET-ISCTE/IUL) | +info
João Pedro Nunes (CICS.NOVA-FCSH/NOVA) | +info
Final comment by Helena Pereira (Fundação para a Ciência e a Tecnologia) | +info
* to confirm